"Just received the rashguard in the post : it's Awesome ! :) Really love your work, both graphics, and printing/service ! Huge thanks again, gentlemen - beers are on me if ever you wander past Paris !" -Tom L. via email
Shout out to @cruzcombat thanks for the amazing custom rashguard!!! I LOVE IT!! Your work is amazing and rashguard fits and feels great. Highly recommend @cruzcombat for any custom rash guard work y'all!! @10patx@eddiebravo10 #cruzcombat #killbodies#fujawa #10patx #10p4l #cruzcmbt#madeintheusa #madeintexas #texasshout out @johnczertuche @wearetdh for designing the graphics, KILLED IT!
"Just got the two rash guards and shorts. I could not be any happier. Best work I have seen. Thank you so much for taking care of me. I also appreciate the excellent customer service. could not be any happier with my first experience with you guys." -James H. via email
"Just wanted to thank you for the custom order. The rashguard came out great and the quality is awesome! Your service is great and I will definitely be ordering from you again and suggesting you to my academy!" -Alexa S. via email
"These rash guards are awesome!!!!!" -Jeremy S. via email
 
"Just thought I'd reach out and let you know that I got my rashguard and fightshorts a few days ago and am absolutely thrilled with them. It's hard to train in anything else now, so I placed an order for one of your collab rash guards until I figure out my custom designs! I can't wait. Thank you as always!" -Sergio O. via email
"Everything was amazing. You guys were incredible. THANK YOU so much for all your help! I'll be coming back with a new order soon." -C.L. via text
"So sorry not to send this note earlier! I received the rash guard a couple of weeks ago, actually. I wore it to open mat on Saturday. Feels great, looks great!" -Casey C. via email
"Just got the shorts today. I really like the style and they fit well! I will be recommending you guys to my friends! If I decide I need more shorts in the future I am coming straight to you guys." -Ryan H. via email
"The rashguards came in today. You all out did yourselves. They look great, logos were perfect. I can't wait til Friday for nogi night." -Sean T. via email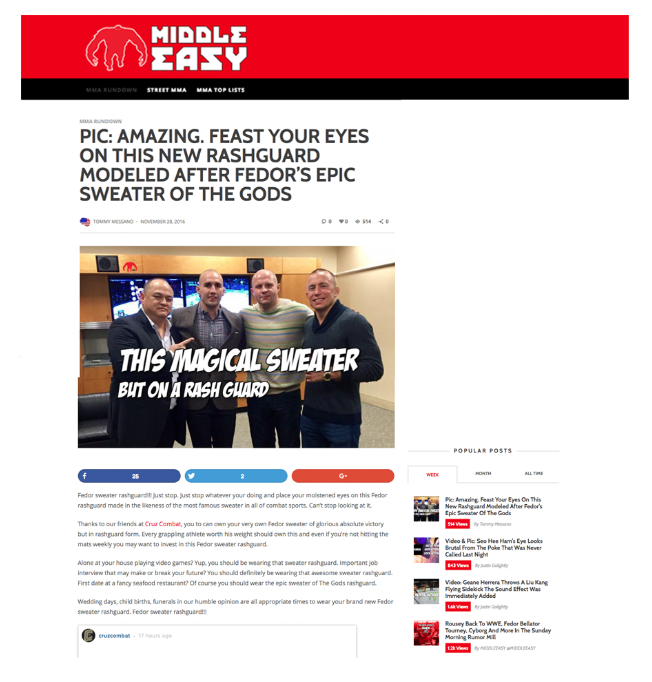 "Fedor sweater rashguard!!! Just stop. Just stop whatever your doing and place your moistened eyes on this Fedor rashguard made in the likeness of the most famous sweater in all of combat sports. Can't stop looking at it.
Thanks to our friends at Cruz Combat, you to can own your very own Fedor sweater of glorious absolute victory but in rashguard form. Every grappling athlete worth his weight should own this and even if you're not hitting the mats weekly you may want to invest in this Fedor sweater rashguard.
Alone at your house playing video games? Yup, you should be wearing that sweater rashguard. Important job interview that may make or break your future? You should definitely be wearing that awesome sweater rashguard. First date at a fancy seafood restaurant? Of course you should wear the epic sweater of The Gods rashguard.
Wedding days, child births, funerals in our humble opinion are all appropriate times to wear your brand new Fedor sweater rashguard. Fedor sweater rashguard!!!"
"Thanks, got my #heybuddy rash gaurd today. Really nice quality and thanks for the extra sticker and patch. You will hear from me again!" -Todd M. via email
"The shorts arrived. They are unbelievably good. Thank you soooooo much – you now have a customer for life and you'll have recommendations for as far as the sound of my voice travels. Thank you." - Jon T. via email
"Just wanted to say I had a great experience with you guys - product was great, service was great. "-Jason C. via email
"Everything came today and man I'm blown away. They look great. Thank you." -Jake M. via email
"Feel like i went through heaven and hell getting this kookie rashguard made. Lots of problems until I found @cruzcombat and they nailed it!! Thank you for making rashguard dreams come true!!" -Justin L. via Instagram
"I just got the shorts and I absolutely love them! thank you so much for the quality work and getting these to me so quickly!" -Jose G. via email
"I just wanted to drop you a line to say thank you for designing my rashguard. I received it yesterday and I could not be happier. It has already attracted some compliments and I have recommended your service to others." -Colin A. via email
"Just sending you a courtesy message to say I've received my rash guards and I'm REALLY happy with the quality of the product. Thanks to both of you and everyone in your team for fulfilling such a specific order."- Al W. via email
"Thanks for the order of the custom rashguards - the quality on them is superb and it's obvious that you guys put the extra time in making sure the design looks awesome and comes out of the process looking 100%. We have put them through some hard use already and they're great quality - pretty sure there will be some more orders soon from Cruz Combat. Thanks again." -Dan R. via email
"Hey guys i just received my fight shorts, and I love them!!! They look really good. Everything is what i expected. Thank you guys a ton. I will be getting even more products from you guys." -JC via email
"CRUZ CMBT is doing the best job at making custom MMA/No Gi apparel right now. It blows my mind I don't see more people with there gear on. For my last fight they hooked me up with custom fight shorts and walk out shirt, which was the most comfortable stuff I've ever worn.
Guy and Ryan are doing it right, made in America and no minimum order quantity. That's amazing, you can just get a one of a kind custom rash guard and the cost is almost the same if you bought one with some big brand name all over it.
I like to support brands and people I think helping the art in a positive and interesting way. Next time you need a pair of MMA shorts or even custom gi patches be sure to check them out first. " -Diego from Walking Alone NYC, http://walkingalonenyc.tumblr.com
"I just got the shorts. Best pair I've personally ever seen. Will wear them comfortably out to battle!" -Kevin C. via text
"Just wanted to drop you an email and tell you that the rashguards you made are awesome. They are so awesome in fact that more guys at our gym want to get some." -Darrell J. via email
"Chris really loves his custom rabbit badger gear!! Very soon I think we are going to be placing another order for some custom shirts. Also, I'm definitely going to be getting myself some custom gear as well. I am extremely impressed with your quality and customer service! You guys really go the extra mile for your customers and I'm going to return the favor by continuing to be a customer. Thank you again." -Justin T. via email
"HOLY S@!%. These shorts are the most boss thing I have ever seen! They fit perfectly and I cannot wait to fight in them." -Diego L. via email
"Just got my rashguard - looks great! I'll order again for sure." -Mihail K. via email
"The rashguard came in, it was amazing! To say I am a satisfied customer is an understatement. No sooner did my kid try the one you sent on than we were designing her the next one. Happy New Year!" -Noe V.
"Just got the shorts in the mail the other day, and they are f@!%&#g awesome! Thanks again and I'll be sure to recommend Cruz combat to all my gym teammates." -Paul F. via email
"OMG....we got the shorts and they are amazing. Cody is so excited we will be sending you pics of him at weigh ins and the fight. He has already said he wants his fight shorts to come from you, and I am sure we will be looking at more custom gear. Thank you so much, will be in contact soon." -Demetria M. via email
"Best fight shorts to ever grace my crotch. Might just have to wear them around the house all day!@FightPath" -Scott T. via Twitter
"You designed some shorts for me a few months ago. I had my fight, won it and now I need some new super vale tudos! You know you have the best shorts of the night when everyone's asking where they were from! " -Chase M. via email
"Received the shorts and I love them. Thank you very much for all your help and time. Looking forward to ordering more shorts from you in the future. I will not be going anywhere else for shorts that's for sure. Thank you once again."-Rance J. via email
"Got my shorts, they're awesome, best I've ever had. Appreciate it!" -Justin S. via email
"Got it today and the shorts are awesome! Thank you and I will definitely keep you in my contact list.
Great quality and customer service. Thanks Again." -Chad D. via email